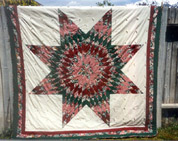 Texas Star

Materials and Cutting Instructions:
5/8 yard of 6 fabrics
Borders: buy a yard or more extra of 2 or 3
Corner squares and triangles: 3 yards
Continuous bias binding 1 yard (I suggest using one of your 6 fabrics for this)
NOTE: The center of this quilt with just the corners and sides set in will be square. You will need to decide how you want to finish it to fit your indvidual needs
Pre-sewing before coming to class
Cut 6 strips 3" wide from each of your six fabrics
Make 6 panels using the same sequence on each one. Stager each color in 3" to form steps. Press flat with al seams going the same way.