The largest and most historic town in Bryce Canyon country is Panguitch. Located near Bryce Canyon National Park. Panguitch was named by the Pauite Indians after the "Big Fish" they caught in nearby Panguitch Lake. Panguitch is located at 6,700 foot elevation, offering the traveler a mild climate. Whether you are escaping from the summer heat, enjoying the Spring fishing or experiencing one of Utah's best displays of Fall colors, Panguitch is the base for your vacation getaway.
Panguitch offers a range of services and accommodations including motels, bed and breakfasts, international hostel and KOA campground. In the city's Historic District you can explore unique stores, museums and the area's largest variety of restaurants and eating establishments. Many of the town's historic homes are built of red brick made in the community kiln. All who participated in the project were paid in bricks in order to build their own houses.
Panguitch is surrounded by spectacular scenery and several attractions boasting a tremendous variety of outdoor recreation. Just seven miles south of Panguitch is Scenic Highway 12, rated one of the ten most scenic highways by Car and Driver magazine. Amazing Bryce Canyon National Park is only 20 minutes away on Highway 12. Panguitch Lake is 18 miles southwest on Scenic Byway 143. This mountain lake resort is known for trout fishing, boating, hiking, horseback riding, mountain biking, cross country skiing and snowmobiling. Such wonderful places as Kodachrome Basin State Park, Cedar Breaks national Monument, Zion National Park, Capitol Reef National Park and Dixie National Forest are all located nearby.

(Click on the Map Below)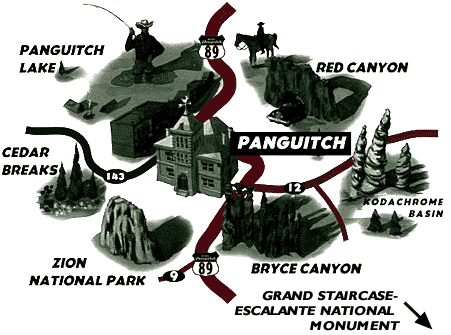 Panguitch Chamber of Commerce P.O. Box 400 Panguitch, Utah 84759 (435) 676-8585


Copyright 1996 InfoWest, All Rights Reserved
Please address comments to:

[email protected]